Maploc8 are pleased to introduce RoadM8 Camera Systems following an intensive period of quality and reliability testing. After speaking with many of our customers, it became clear to us what was needed in an already busy section of the monitoring market.
Having focused on quality, reliability and price, we also found that customers were often unhappy with the overall flexibility of their existing camera systems. With business, employer and insurance demands continually changing, we wanted to bring a good value-for-money, bespoke camera system to the market.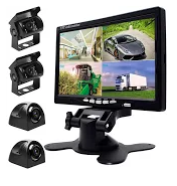 Our systems offer the opportunity to add additional cameras and accessories at a later date if required, without the costly renewal of replacing the entire original equipment. At Maploc8, we hope – by offering this level of flexibility combined with quality products and competitive prices – that RoadM8 systems will become the business user's 1st choice at all levels.
We would love to talk to you where we can advice, help and quote for all your camera requirements. Please call us or use the enquiry form below for an email response without any sales pressure.