Trackin The Box is simply a pre-paid tracking solution in a box. Available directly through Maploc8 or a growing number of motor factors or plant and machinery dealers, it is supplied with a weather-proof tracking unit and full fitting instructions.
A 2-month complimentary subscription is included when purchased online through Maploc8. Pricing options for a further 12 or 36 month subscription ensure Trackin The Box is unbeatable for value and quality tracking combined.
Designed to put the customer in complete control, it has no contract, no monthly bills and gives complete flexibility. Due to its discreet size and high IP rating, it is suitable for most vehicles and has proved a very popular choice with plant, machinery and quad owners. Trackin The Box provides a range of the most popular features used in tracking. With our free app included, monitoring your vehicle has never been easier.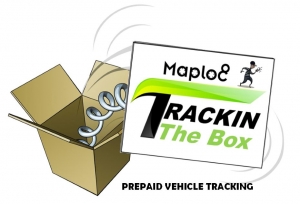 Trackin The Box

Unit Purchase Price

£

69

99

+VAT

includes 2 months complimentary subscription

ADD

12 months Additional Subscription
£89.99
Combined Price
£15998+VAT

OR

36 months Additional Subscription
£239.99 +VAT
Combined Price
£30998+VAT
On-site fitting can be arranged from £35 +VAT per vehicle.
Engine Immobilisation additional fitting charge £10 +VAT.
Find out more today!
If you require any more information about Trackin The Box, please get in touch!